The Wine Aroma Wheel is designed to help you find the wine terms and share your wine tasting experience with others
The Wine Aroma Wheel was created in the 1980s by Dr. Ann C. Noble at the University of California at Davis. Professor Noble was teaching wine sensory evaluation to undergraduate and graduate students enrolled in the world renowned Viticulture and Enology program. 
Being a sensory scientist, she was teaching the descriptive analysis of wine, which required students as they tasted, to decompose their perceptions, label them with specific descriptors (wine terms) and measure the intensity of these perceptions.
background
A difficult task indeed especially when most students froze in the "Tip of the Nose" state: they were familiar with the sensory attributes but could not find the terms to describe them.
Describing wine aromas was also a difficult task for the industry folks in general. Therefore, working with t he Sensory Evaluation Sub-Committee of the American Society for Enology and Viticulture,  Dr. Noble looked at developing a tasting tool to help wine tasters label their sensory perceptions using specific and precise terms. As already discussed in the Wine Tasting Terms section, description is especially challenging when perceptions are channeled through our chemical senses, ie taste, aroma, and mouth feel perceptions.
Principles
This tasting tool is built on the principles of categorization developed by cognitive psychologists (see the work by Eleanor Rosch in particular). Objects (in that case aromas) are grouped based on their perceived similarities. Think of the broad category Furniture.
"Furniture" includes sub-categories like Tables, Chairs, Dressers, etc ... The Table category includes sub categories as well: dining table, bar table, coffee table etc ... Do you get the idea? 
While this is easy to categorize based on their visual similarities, this is challenging when this has been done by the sense of smell.
After several years of research, where wine aromas were compared and grouped according to their perceived olfactive similarities, the wine aroma wheel was born. 
The requirements for words included in this tasting tool were that they were specific and analytical, and not related to people's appreciation of "wine quality". For example, "floral" is a general but analytical descriptive term, whereas "fragrant", "elegant" or "harmonious" are either imprecise and vague (fragrant) or hedonic (related to our likes or dislikes), and judgmental.

Tasting with the Wine Aroma Wheel
The Wine Aroma Wheel has been used by many renowned wine education programs in North America. Since 2003, a French translation is available, and other languages ​​have followed. Dr. Noble also developed a version for sparkling wines using the same principles, including aroma descriptors specific to this wine style.
Sommeliers and wine experts such as  Natalie Maclean  have recommended the Wine Aroma Wheel as a great tasting tool.

The use of the wheel along with aroma standards prepared in a wine base facilitates the connections between an aroma perception and the corresponding aroma descriptor. It requires a lot of practice to make this link stable over time and some researchers have recommended including a specific task in the tasters' training to enable better memorization of the "perception-name" association.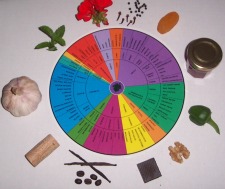 Learn how to create your own  wine aroma kit
Many tasting wheels have been developed since and you may have seen some displayed in winery boutiques. Most of them are food and wine pairing wheels, with a view to guide the wine selection for specific foods.
Do you have a story to share with us?
Tell us about your experience using the Wine Aroma Wheel
Share your stort with the visitors of this website! Tell us about your experience using the Wine Aroma Wheel to help you find description for your wine perceptions
Read about other visitors' experiences
Click below to see contributions from other visitors to this page...

The Student Experience Not rated yet
On the first day of sensory class, many students lift their nose from their glass of wine and say "it smells like wine." I say "Great! You have passed …
My experience as a wine educator in Norway Not rated yet
I am a sommelier and a wine educator living and working in Norway. The Aroma Wheel is part of my toolkit along with le "nez du vin" aroma kit. These tools …
---
Home > Wine Aroma Wheel