How to Choose Wine That Tastes Good?

How to choose wine if you can't taste it before buying it in the store? That's a challenge, isn't it?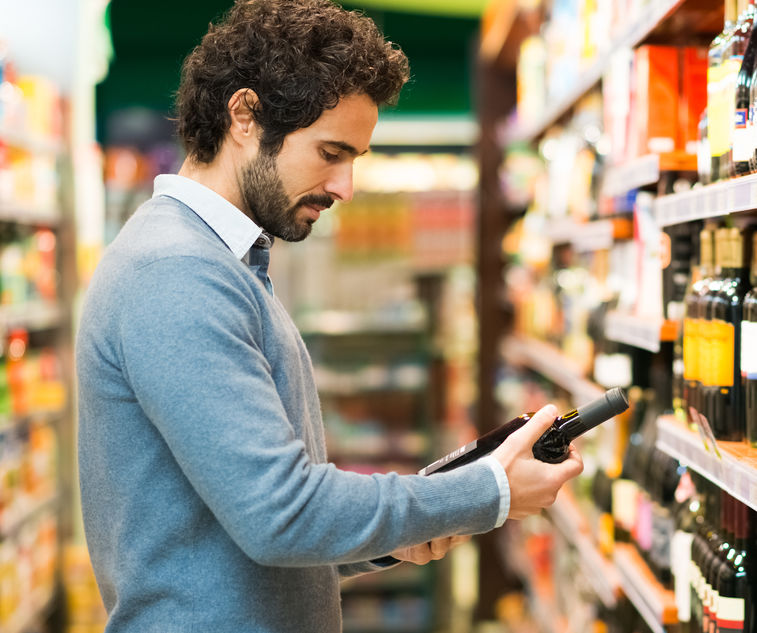 Picture this.

You are cruising the aisles the store, looking at hundreds of different labels, and you have to choose one bottle. If you have tasted a wine you liked before and want to rebuy it; you are safe. The only challenge is to locate it on the shelf.

What about choosing wine as a gift to bring to a party? You are entering unchartered territories and have to find your way to select a wine that tastes good.

What can you rely on when you have only a few seconds on your shopping spree to get that bottle?
Over the years, wine producers have been very creative at designing front labels to attract our attention. Indeed this is what you are facing when scrutinizing the shelves. A lot of research happened in the past 30 years to understand how wine labels can communicate that a wine tastes good.
How to choose wine based on the label color?

Here is a recent study looking at colors of red wine labels [1].
The researchers wanted to understand if colors could communicate particular flavors. We indeed learn to associate specific colors with specific flavors; for example, we know that strawberries are red and lemons are yellow.
So this research team created a study and interviewed 161 wine shoppers in two supermarkets. To qualify for the study, people needed:
To state if they were color-blind - yes, 9% of the population only sees the world in black and white, 
To drink red wine, and 
To agree to take part in the study while in the store.
The process was pretty simple: the researcher started by showing a picture featuring six standard bottles. The bottles looked the same, except for the labels changing color: white, beige, orange, red, blue, and black (see picture).
Then, the researcher asked each participant to rate on a scale how eight aroma attributes matched the label color. These aromas were typical of red wines: fruity, floral, herbal/dry, tangy. caramelized/sweet, smokey/woody, earthy, and milky.
Results showed some associations between label colors and aromas.
It doesn't surprise me that White matched Milky; however, other colors linked to several attributes. 
Red matched with Tanguy, Fruity, and Floral. Other research has shown that the color Red evoked intense aromas and also tended to make people feel more exciting in contrast with more calming blues.
Black matched Dry, Woody, and Earthy. To convey luxury or elegance, marketers often choose the color Black.
Orange matched with Fruity, Flowery, and Sweet. 
I found it interesting that Red was matched with a Tangy flavor (was it a sour taste?) and Orange evoked sweeter perceptions.

The purpose of this study was to determine if wine producers could use colors to communicate wine aromas. While the results showed this is possible, the study missed an important step, i.e., confirmation the associations "colors-flavors" by having consumers taste the wines. For sure it requires some logistics to execute such a test, however one great source of disappointment when we choose wine is that it doesn't taste as the label promised us it would. Adding a tasting component would have been a a great complement to the study.

How to choose wine by reading the front and back labels
That's also a tricky source of confusion. If you are a wine lover eager to learn about wine, you probably spend some time reading back labels when shopping for wine. Unfortunately, even if you are a trained taster, research showed that it is tough to match a wine with its back label description. Even experts failed [2].
The other information that can help choose wine is what we learn at the wine school: 
choosing a wine made from grape varietals that you enjoy;
finding a region of origin, a particular appellation, or a specific producer that makes wine you enjoy. The latter is my strategy.
Research once again showed that people associated wine quality differently depending on the regions, the wine types, and their wine knowledge. However, in the case of Champagne, the appellation of origin, the vintage, and the producer name/brand influenced positively or negatively on how people liked the Champagne wines. This effect was stronger than the taste or the flavors of the wine itself [3].
Therefore how to choose wine isn't elementary

There is no science to tell you how to choose wine. You will learn, as you experiment, what you like or don't like. 
Nothing can replace tasting.
By tasting wines, you will learn the flavors you like, you will learn to associate these flavors to a grape varietal, or a wine region, or an appellation, or the savoir-faire of a winemaker. 
Nonetheless, wine producers need to become better at communicating wine flavors to people starting their wine learning journey. It can be by using specific colors or imagery, That could work. My only request is that they stop using this gibberish language that nobody can relate to, even the wine experts, we learned through research.

---
I shared my strategy to choose wine: select a wine from a producer I know. What is your secret formula on how to choose wine?
---
---
References
Erhard Lick, Bettina König, Monyédodo Régis Kpossa, Violetta Buller, Sensory expectations generated by colours of red wine labels, Journal of Retailing and Consumer Services, Volume 37, 2017, Pages 146-158, ISSN 0969-6989, https://doi.org/10.1016/j.jretconser.2016.07.005.




S. Charters, L. Lochkin, T. Unwin, Wine Industry Journal 15 (3) (2000), 94

C. Lange., Ph.D. thesis, 2000, Université de Bourgogne.
Published February 3, 2020