Writing wine tasting notes help you memorize the sensory impressions of each wine you taste

Why Should You Start Taking Wine Tasting Notes?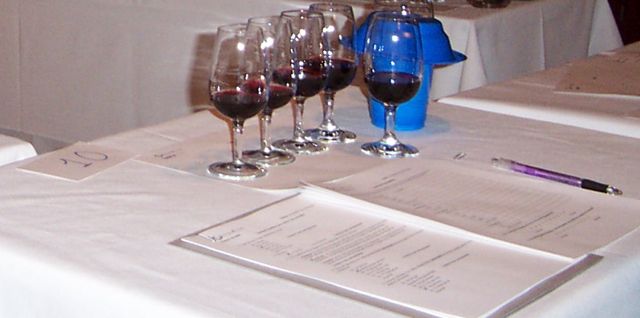 Keeping wine tasting notes is a good habit to adopt, especially if you are a wine student or a wine professional in training. There are several reasons for writing down wine terms describing wine perceptions arising while tasting:
You will develop with practice a consistent vocabulary to describe aroma, taste, and mouthfeel sensations;
Whether you choose to create your own lexicon or to learn a vocabulary established by your professor or  your company, the more you are using these words, the better. When a perception arises, you will try to associate its characteristics to one of these words.
You will facilitate the encoding in your sensory memory of the "perception-descriptor" association, so that it will help you get over the "tip of the nose" situation.
Referring to the previous point, by jolting down words on paper or your favourite electronic device, you will establish connections between the cognitive and perceptive sides of your brain. Research shows that it is difficult to establish a stable connection with just one exposure. therefore repeated exposure helps!
You will learn to associate certain wine descriptors with certain wine style

Obviously, this is what wine students and professionals alike need to to to excel at work. As a wine enthusiast, it helps you identify the wine attributes you like or dislike, and therefore the wine styles you should focus on for your own enjoyment.
You will start building records on wines you like (or not)
You can then refer to past wine tasting notes if another opportunity to taste these wines occurs.
 Information to Include in the Wine Tasting Sheet 
Basically, the wine tasting sheet should guide you through the 5 Ss process, which for me consists of:
Smell - Swirl -Smell again - Sip - and See.
At each step of your tasting, record your perceptions using descriptive terms, be as specific as you can. This simple task seems daunting at first because you lack of vocabulary, but it comes easier with practice and the use of few tools such as wine tasting wheels or standards to give you confidence in your tasting abilities. Check out few tips in the Wine Tasting Terms section.
Once the wine bottles are unveiled and the tasting host shares the wine details you want to record for future reference:
the winery name 

the wine brand if any (for example Family Tree is one of the brands owned by Henry of Pelham family estate)

grape varietal(s) (e.g. Chardonnay) or wine style (e.g. Bordeaux blend)

wine appellation if any (e.g. Niagara Peninsula or St. Emilion)

vintage, i.e. the year of production
At the end of your analysis, you can add a quality assessment, depending on your goals for the wine tasting notes. The following questions may help you with your quality rating:
Are all the perceptions well integrated or balanced -as winemakers like to say; in other words, if you had to draw the wine profile would it be smooth or spiky?

Are the wine perceptions in line with your expectations for the wine region, the wine style?

Did you like it? which is to me the most important thing to record even if you are a wine professional. We are all consumers at some point.
How to Organize your Wine Tasting Notes ?
There are obviously many versions out there, officially recognized or not, depending on the wine tasting goals. If you run a search on the internet you will see many examples, branded or not, called tasting notes, tasting score card, tasting evaluation sheets or tasting sheets. I will offer below some useful links to the attention of the social wine taster and the wine professionals. 
Tasting sheets examples:
What about Apps for taking your tasting notes?
Many "wine apps" are available and accessible from your smartphone or tablet. There are overall two categories:
wine apps by wine critics enabling the users to select a wine based on the critic's reviews
wine apps to help you manage your cellar or track the wines you have tasted based on their label information; the downside is that usually the review you type yourself is not conveniently searchable.
It's difficult to find a system that connect sensory descriptors and wine styles so one can learn the wine characterstics he or she likes (or doesn't like). Quini proposes an interesting method to capture visually our tasting impressions and I was pleased they leverage the Wine Aroma Wheel and few of my advice.
I haven't done any exhaustive review and invite you to submit your favourite wine tasting app or your system to keep systematically your wine tasting notes.
What is Your Favourite Wine Tasting Notes App or Recording System?
Do you have a great app to recommend to other wine tasters? or do you use a tasting journal that particular works for you? Tell us what it is, why you like it so much, what are the basic functions. You can also upload screen shots or photos. And just share it!
Home > Wine Tasting Kit> Wine Tasting Notes