Greetings!



December 2016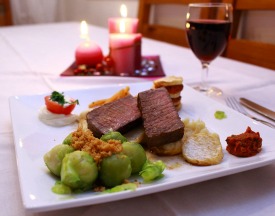 Holiday season is upon us, once again.

Bloggers and reporters are keen to suggest perfect food and wine pairing every time a holiday is approaching, because they want to make sure you select the right wine to pair with your Holiday menu.

But what are the bases for these food and wine pairing recommendations?

This issue provides new light on wine and food pairing, with a cool new method to check which cheese enhances the best the sensory experience with your favorite wine.

Growing up in France, I learned from my family and friends few tips on wine pairing, for example: White wine goes well with fish; Red wine with red meat; and since we were living in the Champagne region, bubbly was known to pair with any type of food.

There is no real science behind food and wine pairing, however there are some associations that are recommended as they enhance the overall enjoyment of both the food and the wine.

A 2016 article published by my former colleague Pascal Schlich describes a method that could help you determine what food and wine pairing works best for you. This article gained international media attention as it provided scientific evidence on the effect of eating cheese on consumer appreciation of the wine paired with it.

Findings showed that the cheese consumption had an impact on the duration of the characteristics that were perceived in wine. I believe many of us knew already about this. However, this method (multi-sip TDS) enables us to understand not only which wine aroma, taste or mouthfeel perception is impacted by the cheese consumption, and also how it is impacted: does the perception persists a longer time or a shorter time?

The link below leads to more details and illustrations associated to this study, including a DIY test to check which cheese and wine pair best together.
Food & Wine Pairing Newsletter
---
Recent Article You May Have Missed
This is the time of the year where social events tend to fill out your calendar. You may attend a holiday party or eat out more often than usual. I sincerely hope you won't have the bad luck to be served a corked wine. It's better being prepared than being sorry. This article will give you tips on how to deal with it.
Tasting with the Wine Aroma Wheel
FREE for SUBSCRIBERS

Download this free tasting guide to enhance wine tastings using the wine aroma wheel. Identify and Memorize Wine Aromas

Still few days to add Wine Aroma Wheels in Stockings
Order by Dec 15 for shipment in the US and Canada; Santa should be able to make it in time! Order online now

If you liked these news and tips
Please share this newsletter with your friends, family and colleagues. Forward them this e-zine for them to enjoy and find the wine tasting tips valuable to them

If a friend DID forward this to you and if you like what you read, please subscribe by visiting Sign Up to Wine Tasting Tips

Comments? Ideas? Feedback?

I'd love to hear from you. Just reply to this e-zine and tell me what you think!

Wishing you Joy, Love, and Great Wines during this Holiday Season
---