Issue#2 - A New Year to Learn, Practice, Experiment, and get more Wine Tasting Tips and Tools
Don't we all make resolutions at the dawn of every new year and somehow fail to succeed?
This year is different for me as I committed more time to build this unique wine tasting guide that is Wine Tasting Demystified, to make it valuable and resourceful for readers and subscribers.
This is with this goal in mind that I crafted the second issue of Wine Tasting Tips. Here is a snapshot of what is covered below.

A New Year, a NewLook for Wine Tasting Demystified
Articles Just Published
Sensory News
Share the Love and Stay in Touch
I do hope you enjoy reading it and that these tips will help you succeed your New Year wine tasting resolutions.



A New Year, a New Look for Wine Tasting Demystified
I spent several hours this past month to re-arrange the site flow and ease the navigation across the different sections. I organize the information according to 4 pillars:
Learn:
 As a wine tasting coach, I like to start the journey of any novice taster by establishing the knowledge foundation and ground rules that will enable them to develop better tasting skills.
Practice: It takes practice of course to acquire the basic techniques and wine vocabulary, like any apprentice in perfumery or culinary would practice their techniques to master their skills.
Experiment: Many factors and external forces can impact one's tasting experience. This pillar includes articles related to various aspects of wine tasting, inspired by recent publications in the sensory science community or the popular media.
Tips & Tools: I realize most people are looking for tips and tools, some fast and easy answers. I will therefore dedicate more time to this last pillar in the future.

I would love to hear from you in order to provide the information you are looking for to become a better wine taster or a better wine educator. E-mail me and share your thoughts


I would be more than happy to investigate and address your needs.



Articles Just Published
Wine Tasting Kit: Whether you plan to host a wine tasting party or plan to tour wineries, this article outlines all you need to have handy for a successful and memorable event
Wine Tasting Terms (updated): This article revisits the reasons why it is so hard to find the right words when tasting wine, and of course shares great tips and tools
Do's and Don'ts before and during a wine tasting: This is a friendly reminder of what you need avoid doing so you can enjoy fully the tasting experience.
Sensory News
In the last issue of Wine Tasting Tips, we discussed wine and food pairing with a cool new sensory method to check which cheese enhances the best the sensory experience with your favorite wine. Well, if you are not that patient to experiment for yourself, a new app can do it for you.


The wine and cheese pairing app was built by Dr. Gary Bader, a professor at the University of Toronto, who "created an interactive mapping graphic of some 1,000 ideal wine and cheese pairings with the tool he and his team of computer scientists and molecular geneticists usually use to visualise complex gene networks" (bbc, 2016). wineandcheesemap.com is an interactive site that helps you experiment the best pairing whether you start by searching a cheese variety of a grape varietal.


This news was reported by BBC late December.

I tried by inputing "Chardonnay" and here are the matching I got.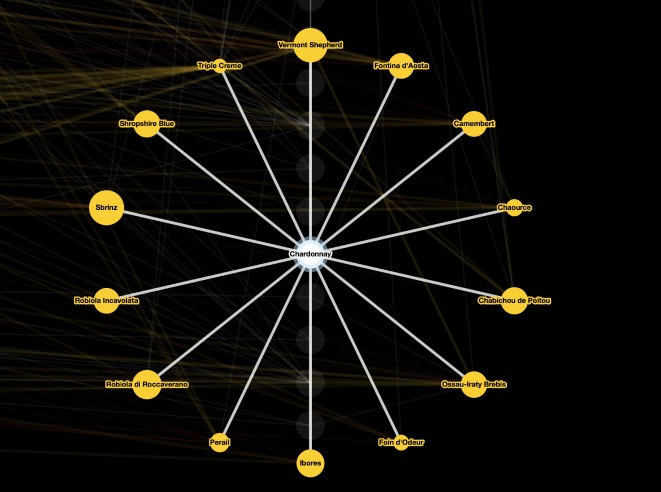 Very cool, when you think that the software had been built originally for studying relationships between genes and molecules. A successful transfer of technology.


One Man's Quest To Reinvent The Wheel — The Flavor Wheel, That Is
Dr. Chambers, a renown sensory scientist at Kansas State University recently revisited the way to represent a sensory lexicon. In a recent work on coffee, Dr. Chambers illustrated the attributes connections as a tree with many branches. He also thinks that a 3-D representation would be amazing, even if not that useful for the user. Here is the piece reported by NPR-The salt at the end of December.



Share the Love and Stay in Touch
If you liked these News and Tips , please share this newsletter with your friends, family and colleagues.


Forward them this e-zine for them to enjoy and find the wine tasting tips valuable to them.


If a friend DID forward this to you and if you like what you read, Subscribe Today


Comments? Ideas? Feedback?


I'd love to hear from you. Just reply to this e-zine and tell me what you think! or E-mail me and share your thoughts




---