Issue #5
You will find in this issue:
How wine bottle labels can influence your wine tasting experience
Introducing Wine Science Corner
Reminder! Two special offers for YOU
Wine Bottle Labels
The whole purpose of Wine Tasting Demystified is to share with you key resources so you feel comfortable when tasting wine in a casual or more formal setting. Whether you are a novice wine taster or a more experienced one, your basic wine tasting kit must include at the minimum a couple of ISO glasses, a corkscrew, a notebook and of course some wine bottles you want to taste. You can expand your wine tasting kit with the tools and tips I shared in this article .


However, there are two important tools that could make your tasting experience more memorable


You can create your own wine aroma kit for the special tasting occasion with the recipes Dr. Ann Noble shared with us.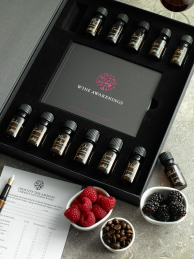 I am pleased to share that I entered in a partnership with Wine Awakenings so that you can access their aroma kits at a discounted price.





As a subscriber of Wine Tasting Tips, Wine Awakenings offer you a $15 CAD discount on any of their 12 aroma kits (retailing $149 CAD).


Use the promo code IL01 when purchasing a 12 wine aroma kit online.
If you are keen on the Master series (retailing $349 CAD and more), please contact directly Rita by e-mail to get your discount.


Why waiting for Christmas to indulge in a very useful aroma kit or making this useful gift to a dear wine lover?


The wine aroma wheel is the basic tool to help you articulate the aromas you perceive when smelling or tasting a wine. It's a simple way to get you match the sensations you perceive with aroma categories that are generic in the center of the wheel (fruity, woody) towards more precise aroma descriptors on the outer circle such as raspberry or burnt toast.

Add the wine aroma wheel to your tasting kit .


We refund the shipping cost of any online purchase of 1-3 items to be shipped in North America (Valid until June 30 2017; count up to 2 business days to receive the shipping fee refund via PayPal).

Share the Love and Stay in Touch
If you liked this issue of Wine Tasting Tips, don't forget to forward it to your friends, family and colleagues.


If a friend DID forward this to you and if you like what you read, don't spare a minute and Subscribe Today




Comments? Ideas? Feedback?

I'd love to hear from you. Just reply to this e-zine and tell me what you think! or E-mail me and share your thoughts





Are you on social media?

Find me on Facebook and Twitter.

Cheers!
---