Purchase the Wine Aroma Wheel 

Effective January 1 2019, InnoVinum LLC manages Dr. Ann Noble's Wine Aroma Wheel operations.
Purchase the Table Wine Aroma Wheel (in English, French, Italian, Spanish, Portuguese, Danish, Norwegian or Swedish) and the Sparkling Wine Aroma Wheel directly from www.winearomawheel.com

Original Wine Aroma Wheel
(C) 1990, 2002 A.C. Noble

on a full-colour laminated plastic
support (22 cm diameter)

Roue des Arômes 

(C) 2003 Noble and Lesschaeve

Original translated in French - Disque laminé de couleur (22 cm diamètre.
Les descripteurs d'arômes sont organisés en 3 sections: au centre les catégories générales (par ex. Fruité),pour finir à la périphérie avec les termes spécifiques (par ex. Citron).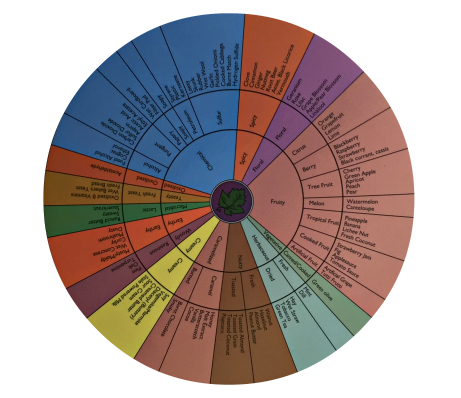 Sparkling Wine Aroma Wheel
(C) 1990 A.C. Noble 

includes terms that are more specific to the description of the sparkling wines and Champagne wines.  
---
Home > Get the Wine Aroma Wheel