Purchase the Wine Aroma Wheel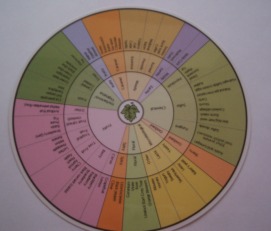 Original Wine Aroma Wheel
(C) 1990, 2002 A.C. Noble

on a full-colour laminated plastic
support (22 cm diameter)

Roue des Arômes 

(C) 2003 Noble and Lesschaeve

Original translated in French - Disque laminé de couleur (22 cm diamètre.
Les descripteurs d'arômes sont organisés en 3 sections: au centre les catégories générales (par ex. Fruité),pour finir à la périphérie avec les termes spécifiques (par ex. Citron). 
Sparkling Wine Aroma Wheel
(C) 1990 A.C. Noble 

includes terms that are more specific to the description of the sparkling wines and Champagne wines.  
Select the Wine Aroma Wheel 
All aroma wheels are priced $US 6.00  per unit plus shipping costs.
Terms: 
Shipping by regular USPS services, upon full payment reception. Count 7-10 business days for delivery outside the US.
Contact us to arrange a delivery by courier at an extra cost.
Discounts available for order of 10 items or more: contact us to check your discount eligibility
---
Home > Get the Wine Aroma Wheel